WHAT IS TALL TRUCK?
Located in the hills of Northern Vermont, Tall Truck is a modern indoor cultivation facility dedicated to growing the highest quality cannabis product.
Our flower is grown with 100% renewable energy, using top quality genetics, careful attention to nutrient application, growing environment, drying and curing.
Tall Truck is grown and processed with Care & Pride…
ENJOY THE RIDE!
Tall Truck Flower is among the finest in beauty, aroma, flavor, and effect. We pay close attention to all details from clone through sale to provide you with the highest quality cannabis flower.
Tall Truck Cartridges, proudly made with 100% Vermont ingredients are trusted and ideal for all occasions.
Tall Truck Gummies pack the flavor, texture & fun that you expect from all Tall Truck products.
Tall Truck Liquid Gas is a fast acting, water soluble tincture that is convenient, potent, and discreet.
TALL TRUCK APPAREL
Join the TALL TRUCK MOVEMENT with our high quality apparel!
Here at Tall Truck, we believe in offering only high quality gear and products. We are constantly adding more products and apparel.
SHOP NOW!

Let us know if you don't see something that you'd like Tall Truck branded!
RESPONSIBILITY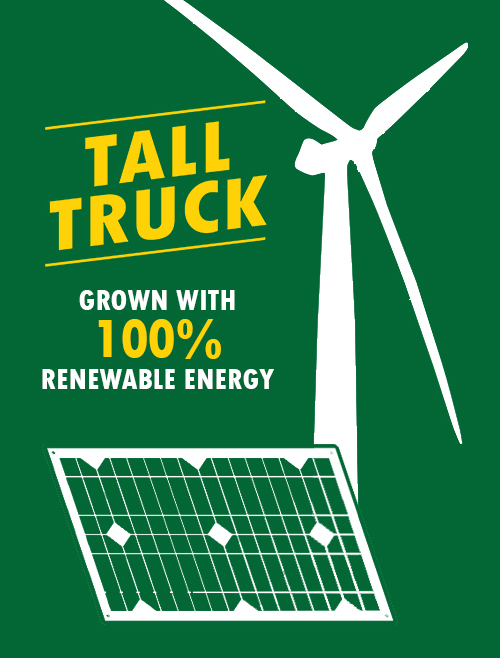 Our products are grown with 100% renewable energy
One of Tall Trucks many goals is to be as environmentally responsible as possible. Adding to the pride already felt here at Tall Truck, is our use of 100% renewable electricity throughout the Tall Truck Facility.
We are proud to share this information and will continue to!
Tall Truck is well known for its high quality cannabis lines, as well as its community building and active engagement with the action sports community.
The TALL TRUCK MOVEMENT has begun and we are demonstrating how enjoyment of the benefits of cannabis can accompany an active, healthy, and athletic lifestyle. Tall Truck's team of elite athletes remain the example of how cannabis can be enjoyed with no negative effects on performance, drive, and talent. Despite long held stigmas, our opinion is that Tall Truck cannabis enhances performance & drive, and can provide the focus and inspiration to fight through tough internal battles.
Yes, the TALL TRUCK MOVEMENT has arrived! We are active, we are productive, we have fun, and WE LOVE CANNABIS!
Follow us on Instagram for fun & inspiring content from us and our athletes, and join us in being active, productive stoners.
ENJOY THE RIDE!!